Cavs Top 3: Caris LeVert can't guide the Cleveland Guardians to win over the San Antonino Spurs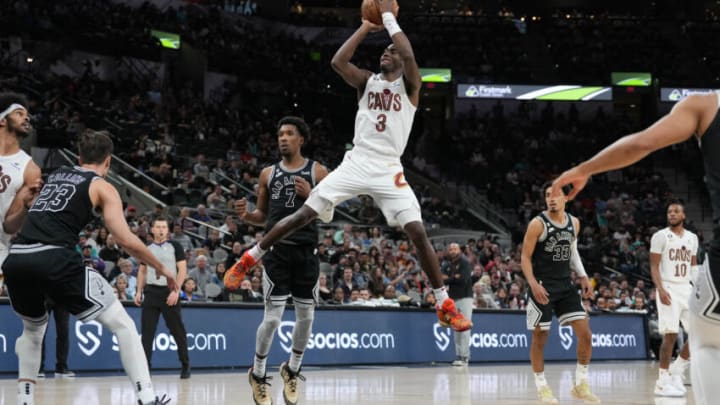 Dec 12, 2022; San Antonio, Texas, USA; Cleveland Cavaliers guard Caris LeVert (3) shoots in the second half against the San Antonio Spurs at the AT&T Center. Mandatory Credit: Daniel Dunn-USA TODAY Sports /
Cleveland Cavaliers couldn't follow Caris LeVert to victory over the San Antonio Spurs
When Caris LeVert is bad, he's very bad. When LeVert is good, he's very good. On Monday against the Spurs, LeVert was very good. The wing came off the bench and played effectively on defense and spectacularly on offense, putting up the second-most points in the game for the Cavs behind Donovan Mithcell.
The Cavs also had Kevin Love back, alongside a returning Mitchell as well. It was looking like a route for the Cavs before tipoff, after all the Spurs are anything but a good team this year. But that's why you play the game because the Cavs had a dull first half, trailing 65-49 at halftime.
The Cavs were outscored by 14 in the second half alone. This is not a new issue for the squad, as they're routinely a team that gets smashed in the first half, notably the second quarter, setting up a comeback of sorts over the last two quarters.
That's what happened here. The team didn't shoot well, and part of it had to do with Garland dealing with a hand injury. Another reason the team struggled was the imbalance in the minutes given. Lamar Stevens got 25, but Love and Cedi Osman netted only 21 between them.
Osman and Love are better offensively than Stevens is defensively, and putting a guy out there that didn't shoot once, and isn't known for his dynamic scoring, in a game where you need points, is a shockingly big gaffe from J.B. Bickerstaff. Osman apparently got yanked after blowing a defensive assignment, though that's speculation.
The Cavs were nearly able to pull off the come-from-behind win, but a failed shot by Mitchell in the pain, and then a brick of a three-pointer by Garland, ultimately set up the Spurs' win. San Antonio capped off their upset 112-111.
The Cavs are 2-3 in their last five and have Luka Doncic and the Dallas Mavericks up next on Wednesday.
Cleveland Cavaliers top 3 vs. the San Antonio Spurs
1 Point – Darius Garland
39 minutes, 18 points, 9 assists, 7 rebounds, .318/.167/1.000, BPM +10
2 Points –Donovan Mitchell
37 minutes, 28 points, 5 rebounds, .500/.285/1.000, BPM -9
3 Points – Caris LeVert
29 minutes, 23 points, 3 assists, two rebounds, .692/.250/1.000, BPM +14
Cavs Top 3 Seasonal Standings
Donovan Mitchell –42 Points
Darius Garland – 30 Points
Evan Mobley – 27 Points
Cedi Osman 17 Points
Jarrett Allen – 17 Points
Caris LeVert & Kevin Love – 12 Points
Isaac Okoro – 5 Points
Dean Wade – 3 Points