3 of the most embarrassing moments in Cleveland Cavaliers history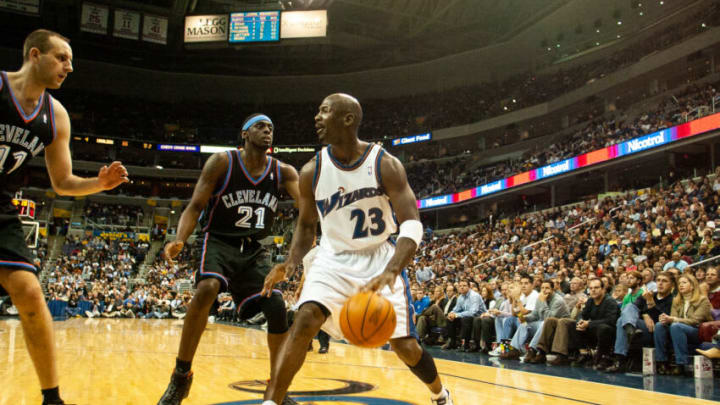 WASHINGTON, DC - NOVEMBER 06: Michael Jordan of the Washington Wizards and Darius Miles and Zydrunas Ilgauskas of the Cleveland Cavaliers in action during a game at The MCI Center on November 06, 2002 in Washington DC, USA. (Photo by Simon Bruty/Anychance/Getty Images) /
CLEVELAND, UNITED STATES: Cleveland Cavaliers Players Wesley Person (L) and Lamond Murray (C) embrace as teammate Ricky Davis (R) begins to celebrate as the overtime period ends on 24 November, 2001 at Gund Arena in Cleveland, OH. Cleveland defeated Miami 100-96 in overtime. AFP PHOTO DAVID MAXWELL (Photo credit should read DAVID MAXWELL/AFP via Getty Images) /
Ricky Davis' triple-double debacle
I got into sports in the mid-to-late 90s, and the Shawn Kemp Era was really when I first started to get into the Cleveland Cavaliers on a regular basis. Sure, I've watched the Cavs prior, but it was around this time I went from casual viewer to fan. So you know I've suffered. And man, as bad as the last few years of the Kemp Era were, and the proceeding years after LeBron James left the first time, no time period was as bad from that time period from about 1999 to 2003.
Sure, we had Andre Miller and Zydrunas Ilguaskas, but we also had to suffer through Ricky Davis. Davis, who was drafted 21st overall by the Charlotte Hornets, and was traded not long after to the Miami Heat, in a deal where the Heat got Davis, Eddie Jones, Dale Ellis, and Anthony Mason, while the Hornets got Jamal Mashburn, P.J. Brown, Rodney Buford, Tim James, and Otis Thorpe.
Davis wore out his time in Miami and was later traded to the Cavs in a three-team deal, also involving the Toronto Raptors. The Cavs got Davis and Brian Skinner from the Raptors, while the Heat got Chris Gatling, and the Raptors landed Don MacLean (not that Don MacLean).
The Cavs did not improve after the trade and went from a 30-win season to a 29-win season with Davis as the team's fourth-highest scorer. With Miller and Ilguaskas on the team, many thought it'd be possible to see a leap in improvement for the team, but that didn't happen, and instead, Miller was traded for Darius Miles the following season so that the team could tank for LeBron James.
Weeks before the end of the 2002-2003 season, Davis would go on to rightfully earn his nickname of Wrong Rim Ricky. In the waning moments of a March 2003 game against the Utah Jazz, Davis would take a shot on his own hoop to try and get a triple-double, a stat that was very rare at the time. Deshaun Stevenson, then with the Jazz, didn't take too kindly to Davis' stunt and shoved him with a second-plus left on the game clock, stopping the action. The fans in Cleveland booed a bit but the backlash against Davis was profound.
Davis made a joke out of the accomplishment and the NBA world let him know. Davis was a 20-point-per-game scorer that season, on subpar efficiency, but he wasn't viewed as a joke prior to that moment in time.
He was, however, after it. He had some solid scoring seasons after, but his reputation has never recovered. The Cavs only won 17 games that season (that was victory No. 12 on the season), and yet the Davis triple-double attempt is still the most embarrassing thing out of that season.