Cleveland Indians: Pitching Remains Key As Series Heads To Toronto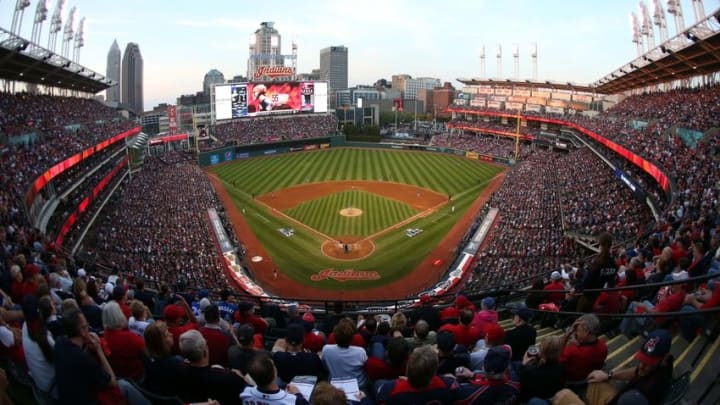 Oct 15, 2016; Cleveland, OH, USA; General view of Progressive Field during the eighth inning of game two of the 2016 ALCS playoff baseball series between the Cleveland Indians and the Toronto Blue Jays. Mandatory Credit: Charles LeClaire-USA TODAY Sports /
The Cleveland Indians' superb pitching will determine their success on the road.
We have seen the Cleveland Indians pitch at a level that is World Series-champs like. Although there is still business to take care of before they get there, their pitching cannot regress.
In their first two games, the Toronto Blue Jays have not done anything thanks to the Tribe's starters and left-handed reliever Andrew Miller. I mentioned that for Cleveland to succeed, they cannot give up home runs.
In fact, I specifically stated Toronto will hit no more than one in the series. So far so good.
Related Story: 5 Predictions For The ALCS
In Miller's 3.2 innings, he has struck out 10 batters. This is just one example of Miller being the best option a team can have at this time of year. Fellow Site Expert Nick Dudukovich recently broke down how Miller's impact has not just been in the ALCS.
Any time Miller has been in the game, confidence increases and we know it is just a matter of time before the ball gets to closer Cody Allen. As far as Cleveland's starters, they have been lights out but that must continue. Otherwise, the Indians' chances are tough and limited to win away from home.
More from Factory of Sadness
Ace Corey Kluber pitched 6 1/3 innings, while giving up six hits and striking out six batters in a shutout win. Josh Tomlin followed suit going 5 2/3 innings giving up one earned run and striking out six. Game 3 starter Trevor Bauer cannot start off slow or struggle.
At times he has been inconsistent and Cleveland cannot afford to deal with that right now. Since Bauer's finger is still healing after it got cut cleaning a drone just adds to the concern Monday night.
Cleveland's bullpen filled in greatly when Bauer did not get through five innings in the ALDS.   Looking forward to tomorrow's night, Bauer has to get through five or ideally six innings to put the Tribe in a comfortable position to win.
All of those aspects are important, but one has yet to be discussed to the level that is needed. What needs attention is the fact that Cleveland 's has not provided even decent run production during the ALCS. In both games, Cleveland has scored two runs! Had Cleveland struggled on the mound, we may not be watching the ALCS with an Indians' lead of 2-0.
Toronto's offense is one of the best in baseball. Hopefully they continue to struggle, because if they don't, Cleveland could be in trouble— even with great pitching up to this point. Yes, the Blue Jays hit a ton of home runs, but there are more ways to manufacture runs.
Next: Tribe Relying On A Bullpen Game?
As good as Cleveland's pitching has been, the offense has been sub-par. Regardless of who is on he mound, I am confident the Tribe pitchers will do their jobs. That said, to make sure they leave Toronto with at least one win, the Indians' offense must do more and help out their pitchers.