Cleveland Browns 2020 schedule rumors: Browns would've played in London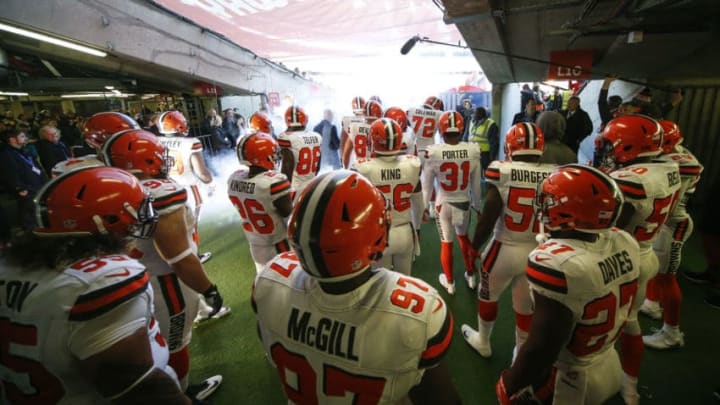 Cleveland Browns (Photo by Alan Crowhurst/Getty Images) /
An interesting rumor and some other thoughts on the release of the Cleveland Browns schedule, as we now all play the schedule game for 2020.
The Cleveland Browns schedule for 2020 is out as the team opens up the season in Baltimore against the Ravens.
An interesting nugget surrounding the release involves the Browns playing in London.
Cleveland would've played Jacksonville in on Nov. 1 in London, had the league not cancelled the international series as a result of the COVID-19 pandemic, according to TheLandonDemand's Tony Grossi (subscription).
Instead, the Browns will play at Jacksonville on Nov. 29.
The Browns last played in London during the 2017 season, when Hue Jackson and DeShone Kizer traveled across the pond to play the Minnesota Vikings. Of course, it didn't work out for the Browns.
Some other impressions from the schedule release:
1. The Browns open up against Baltimore for the first time since 2004, which consequently, is the last the time the Browns won the season opener.
2. That game was played in Cleveland of course, and now Kevin Stefanski will take his team into one of the hardest places to play. The NFL seemed to bend over backwards the last few years, scheduling winnable games for Cleveland in Week 1. Now, the Browns get the juggernaut Ravens and Lamar Jackson.
3. All that being said, it would be totally Browns for Cleveland to go in their and stun Baltimore. Even Freddie Kitchens was able to pull that off. Do they have a chance? Sure, however,  I'm not holding my breath.
4. The Odell show goes back-to-back, with the Browns playing at the Giants on Dec. 20 then the Jets on Dec. 26 or 27th.
5. So much for the speculation that had teams backloading their schedules with divisional opponents. The Browns play the Ravens Dec. 14 and wrap up the campaign against the Steelers Jan. 3. Before the Browns play the Ravens, the last time Cleveland will see see a divisional foe is Oct. 25, when the Browns play at Cincinnati.
6. The Thursday night contest comes early, as Joe Burrow leads the Bengals into FirstEnergy Stadium. It will likely be Burrow's second professional game and there will be plenty of eyes who want to see the homegrown Buckeye take the stage in the Battle of Ohio.
7. Dallas on Oct. 4 stands out, as does images of Kellen Winslow breaking his leg playing on special teams for Butch Davis back in 2004.
8. As previously mentioned, the Browns conclude against the Steelers. The Ravens are the hyped team right now, and rightfully so, but it feels like Pittsburgh is the hurdle Cleveland needs to clear to end it's playoff drought. With seven teams eligible for the postseason, this game could be huge if the Browns are gunning for a Wild Card berth.