Cavs: Cleveland should take a chance on Jimmer Fredette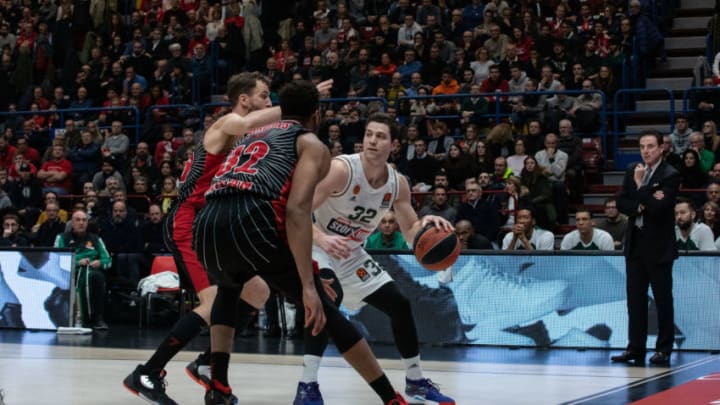 MILAN, ITALY - JANUARY 09: Jimmer Fredette, #32 of Panathinaikos Opap Athens, dribbles during the 2019/2020 Turkish Airlines EuroLeague Regular Season Round 18 match between AX Armani Exchange Milan and Panathinaikos Opap Athens at Mediolanum Forum on January 09, 2020 in Milan, Italy. (Photo by Emanuele Cremaschi/Getty Images) /
The Cavs are actually a good team in 2021but they need three-point shooting help and that's where Jimmer Fredette comes in.
Jimmer Fredette hasn't had the best of luck in the NBA, but that's more because of his style and less about his skills. To say that he can't play basketball, even at the NBA level, just doesn't seem like an accurate statement. He's never been put in a system that utilized him as BYU did back in his college days. Not until he ended up in China. Just look at the fact that he dropped 70 points against professional basketball players. That's only one of the reasons why the Cavs should take a run at the former college standout.
While we don't really know how his deal in China works, so it's unsure if they could sign him if they wanted to but the Cavs absolutely need three-point shooting help. They're in the bottom-ten in three-point shooting proficiency and really only boast three men who qualify as three-point shooters; Kevin Love, Cedi Osman, and Dylan Windler. Sure, Collin Sexton has shot well from beyond-the-arc but not a lot of people consider him a three-point shooter.
Others like Larry Nance can hit three's but often don't.
Maybe this article wouldn't be needed if Kevin Love was healthy and hitting 40% from beyond the boundary. He's not though. Very few people are.
Osman is leading the team with seven attempts per game, with a success rate of 36%, while Darius Garland is second on the team with 4.5attempts per game at 38%. Osman's numbers have improved over the last six games, especially behind the arc, hitting 43% heading into the Piston's game on Wednesday.
The Cavs are 8-9 and are a serious contender for a playoff spot but trade rumors are circulating around. Right now it doesn't seem likely that the Cavs would move someone like Andre Drummond for any immediate help, but more so for draft picks – if he's moved at all. So trying to convince the Cavs to go get J.J. Reddick and say, Steven Adams (or someone) for Andre Drummond isn't likely.
Going and getting a Kyle Korver-type could still happen, though the Cavs seem pretty committed to standing pat until Love is back in the fold.
For those wondering about Fredette's game, he's averaging 30 points per game over his seasons in China and Europe, while hitting 42% of his shots from three. He is just hitting 37% this year while in China, however, but he is averaging six assists and two steals per game as well.
Fredette isn't an instant All-Star for the Cavs, he's just someone that can provide dynamic scoring off the bench to help bolster sagging stats for the team's three-point efficiency.
Admittedly, I'm a fan of the guy and his game and think he can still succeed ala P.J. Tucker. I might be taking a big swing but it's one out of sincerity. I do think he could help the Cavs, but he may not be the perfect fit. There's no denying that. He can still put up huge numbers. We see it. Can he do it on good efficiency though?
If the Cavs don't make any major trades and still stay in competition for a playoff spot, the team will need the extra shooting. If they do swap Drummond or Javale McGee or whoever for another shooter; then don't worry about it.