Browns: 3 reasons Baker Mayfield should be next in line for a deal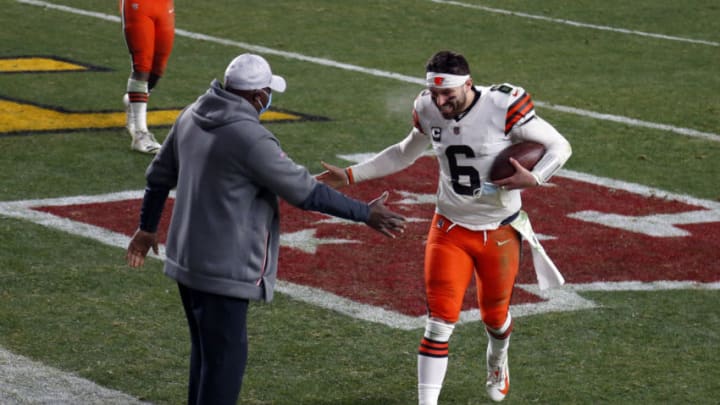 PITTSBURGH, PA - JANUARY 11: Baker Mayfield #6 of the Cleveland Browns celebrates against the Pittsburgh Steelers on January 11, 2021 at Heinz Field in Pittsburgh, Pennsylvania. (Photo by Justin K. Aller/Getty Images) /
Baker Mayfield should be up next for a new contract.
You can argue until you're blue in the face whether or not Baker Mayfield should be next in line for a new deal, let alone whether he warrants one at all. The fact remains that Mayfield has proven to be the Browns' best quarterback since Brian Sipe and to let that type of talent walk away would be foolish, especially considering just how dynamic the team has been under his charge.
None of this is meant to say that Mayfield is the second coming of Tom Brady. For what he is, and what the Browns' have had, he's the perfect fit. Maybe 2020 will be the best he'll ever be, which was the 10th best quarterback in the NFL according to the numbers. Maybe he won't be a Hall of Famer, but if he can be a few-time Pro Bowler, and maybe do well in the playoffs, then it'll be worth it to extend his contract.
The Browns should make a decision sooner rather than later, they know they're under the gun with this extension. With Nick Chubb getting his, you just know that's all people will be asking both sides about until it happens. Getting it done will ensure stability over the length of the deal, and will put to rest a lot of the conversations circling the Browns.
We're going to look at three rather impressive reasons to extend Mayfield now, but we're also going to look at three reasons why waiting would be the better idea. That will come in another article that will be linked here and at the end of the column when it's finished.