Leaked Cleveland Guardians extension offer to Jose Ramirez seems low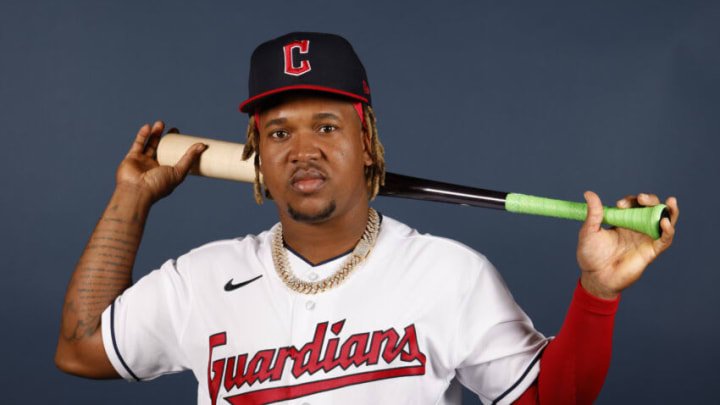 Cleveland Guardians (Photo by Chris Coduto/Getty Images) /
In Cleveland Guardians rumors, it sounds like contract talks have slowed between the club and three-time All-Star Jose Ramirez.
The club reportedly offered Ramirez an additional four year deal at $84 million, according to Univision's Mike Rodriguez (Twitter link).
Ramirez is under contract for $12 million this season and has a club option for $14 million in 2024. According to Rodriguez, if Ramirez had said yes to the offer, he'd make $115 million over the next six seasons, including this year.
Once the extension started, he'd earn an average annual salary of $21 million. That's a million more than what the team guaranteed its most lucrative signing, Edwin Encarnacion, before the 2017 season. Averaging the deal out through six years, Ramirez would earn $19.1 million annually.
Cleveland Guardians need to be more aggressive
I've been writing about this for a couple days now, and it would seem the Guards are going to have to be more aggressive to ensure Ramirez ends his career in Cleveland. MLB Trade rumors said it might take doubling Encarnacion's three-year, $60 million pact.
Well, they just about doubled the money, but they also doubled the years. One would think Ramirez's agents know he's been a bargain and now want fair market value for the slugger.
Hopefully, this was just a starting point for the two sides, as there's still plenty of time to get a deal done before the deadline of Opening Day shelves contract talks for the season. I don't think this is a hard deadline, but if Chris Antonetti and Mike Chernoff can't get it done by then, it's probably only a matter of time until Ramirez is dealt.
Rightfully, the Guardians have held onto Ramirez to start the season, but if they're out of it by the All-Star break, they should be able to recoup plenty of prospects, as the team who would acquire him would have his services for two postseasons.