The NBA has released their new City Jerseys and the Cleveland Cavalier's is among the worst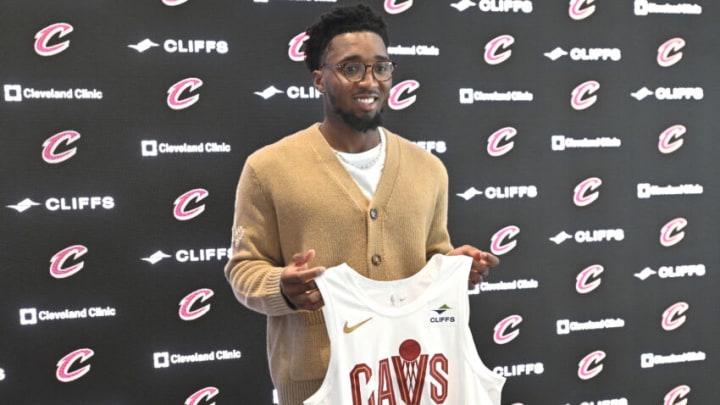 Sep 14, 2022; Cleveland, OH, USA; Cleveland Cavaliers guard Donovan Mitchell poses with his jersey during an introductory press conference at Rocket Mortgage FieldHouse. Mandatory Credit: David Richard-USA TODAY Sports /
The NBA has revealed their City Edition uniforms for this season and the Cleveland Cavaliers are near the bottom of the pack.
The NBA has unveiled their 2022-2023 City Edition uniforms, and some are pretty awesome. Some aren't. The Cleveland Cavaliers had theirs leaked a bit ago, and their new base jerseys are pretty solid, all things considered, the new Cities aren't great. Granted, the 2020-2021 Rock Hall-inspired jerseys did grow on me, these "Land" ones are less likely to.
The jerseys were designed hand in hand with the Cleveland Metroparks, and that does add a bit of goodwill to them, but they're rather uninspired. The "earthy" design is a white background and gold letters for "The Land", which of course is just the short-hand of Cleveland, the city's more recent nickname.
They're certainly a step down over past years, but thankfully they're not as bad as the Golden State Warriors flower jerseys. Nor are they as bad as the Charlotte Hornets "CLT" jersey.
The five best City Edition jersey's the NBA released in 2022-2023
Houston
Houston's are solid because they're a take on the old throwbacks from the Steve Francis era of the team. They weren't around long, at least not as long as the Yao Ming era designs were still pretty much found in the modern iteration of the jerseys. The colors and stripes just really make this jersey pop.
Memphis
There's a quiet dignity with these. They're lacking the typical color scheme that makes the Memphis Grizzlies jerseys pop but the bold font and number scheme just pops.
Philadelphia
Fans of a certain age may remember the television show, Brotherly Love, a nod to the city's nickname. I grew up on that show and frankly, that's the only reason these are on the list.
Phoenix
The Phoenix Suns swapped out the purple for light blue, and frankly, it works. The Suns usually have great designs for their jerseys, regardless of era, and these ones are no different.
San Antonio
The Spurs get called boring far too often, and that's reflected in their jerseys. Very bland, very ordinary. These however are a step up with a cool side pattern, and some neon colors to really drive home the look.