Jeremiah Owusu-Koramoah's lackluster season for the Cleveland Browns proves change is needed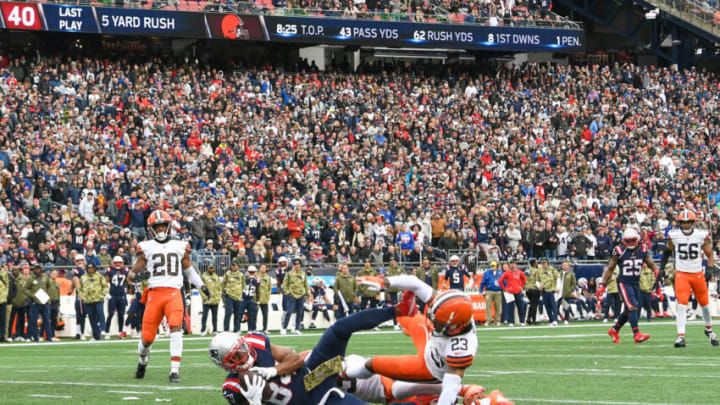 Nov 14, 2021; Foxborough, Massachusetts, USA; New England Patriots wide receiver Kendrick Bourne (84) catches a ball for a touchdown in front of Cleveland Browns outside linebacker Jeremiah Owusu-Koramoah (28) during the first half at Gillette Stadium. Mandatory Credit: Brian Fluharty-USA TODAY Sports /
The Cleveland Browns have lost Jeremiah Owusu-Koramoah for the season.
The Cleveland Browns have lost Jeremiah Owusu-Koramoah for the season, ending what has been a rather disappointing season for the much-ballyhooed linebacker out of Notre Dame. Owusu-Koramoah will miss the rest of the season due to a foot injury and that injury may prove to be a nagging issue heading into his career's prime. Injuries to feet are not exactly easy to heal and can be a nagging issue for years to come.
Hopefully, that's not the case, but his season-ending injury does add him to the list of guys that are already out; Anthony Walker, Sione Takitaki, and Jacob Phillips. The rash of injuries has caused the Browns to sign Storey Jackson to the practice squad to bolster the ranks.
The Browns also signed Jermaine Carter Jr. from the practice squad to fill the roster spot. All of these injuries may be the catalyst the Browns' front office, namely Andrew Berry, needs to actually invest in the position besides mid-round draft picks.
Owusu-Koramoah's disappointing season is indicative of the issues around him, as well as with him. The defensive tackles on this unit are awful, and the high-priced players are not doing their jobs. Sure, Myles Garrett looks good on paper but he makes no impact against the opposing team's running game and Jadeveon Clowney is a shell of who he was last season, which was a shell of who he was in Houston. Let's not even talk about Denzel Ward.
So looking at PFF's grades on Owusu-Koramoah, it's fair to say he did not produce. He had a Defensive Grade of just 64.2, a Run Defense of 58.8, a Pass Rush Grade of 48.1, and a coverage grade of 71.5.
That's not only his best grade but his best asset; he's a great coverage guy. He's a bad run-stopper.
Jeremiah Owusu-Koramoah showed he will struggle at linebacker
Owusu-Koramoah is a good player, but it's clear this philosophy that Kevin Stefanski has for smaller, faster linebackers, isn't exactly working out. The Browns need size at the position, as well as speed, and considering he's barely bigger than John Johnson III, it's fair to say that maybe Owusu-Koramoah should not return to the team as a linebacker.
The Browns are so deadset on running five defensive backs 60% of the time, then fine. So it, but move Owusu-Koramoah to safety then. Have the third corner be more of a hybrid corner-safety type of guy (M.J. Stewart would've been perfect here), and then have more conventional corners and second safety around them.
Then you can beef up the linebacking corp and move on from the smaller Walker (201 lbs) and Phillips (228 lbs). Getting size and strength at the position will allow them to fight off guards coming into the second level easier.
After all, while the defense has gotten faster and smaller, the offensive line has just gotten faster. They're still as big as ever, and modern linebackers are not fairing well when a quick and big Wyatt Teller starts hunting them down.
Getting strength and size at the linebacking position is mandatory this off-season.