Everything is coming up Millhouse for the Cleveland Browns this offseason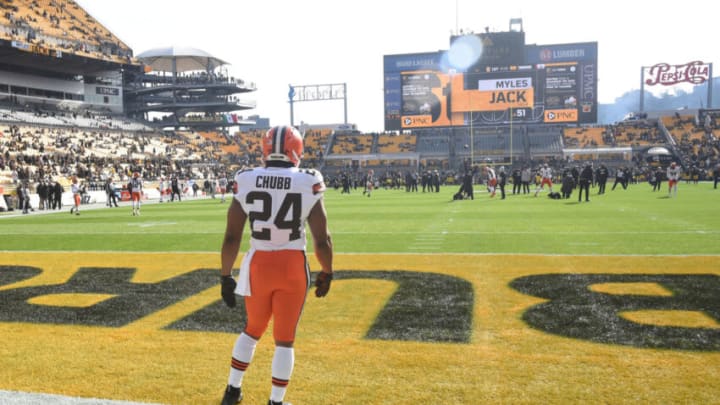 Jan 8, 2023; Pittsburgh, Pennsylvania, USA; Cleveland Browns running back Nick Chubb (24) before playing the Pittsburgh Steelers at Acrisure Stadium. Mandatory Credit: Philip G. Pavely-USA TODAY Sports /
The Cleveland Browns are not going to have many excuses this year if things don't go their way.
The Cleveland Browns are running out of excuses for not making noise in the postseason. Or getting to the postseason. Since 2019, the year that really started the "push for the playoffs", the team has failed in three of the four years to qualify for post-season play. The team that made it in 2020 has largely been overhauled, with most of that team no longer here today.
The 2021 and 2022 squads struggled due to a quarterback injury and suspension, resulting in back-to-back losing seasons. Now, a year before Deshaun Watson's unholy contract leaps from $19 million to $63 million, the Browns have got to get things right. There isn't an excuse anymore. Even the NFL is coming and helping out the Browns.
As of press time, the schedule hasn't been revealed completely, but we do have some news. According to Adam Schefter, The Browns are not going to have to travel a lot this year. Unless something changes mid-season, the Browns are just 24th in expected miles travel.
The Cleveland Browns will have more time to rest due to the lack of miles traveled
Anyone who has ever played a sport knows the toll traveling takes on you after a game. For most of us, the longest trip may have been an hour. But the Browns aren't just driving from neighborhood to neighborhood. They're traveling across the country, through multiple time zones, and doing so at odd hours of the night.
Rest is important, especially in football. You can't really rest if you're traveling, and it's even harder to do things like ice therapy when you're on a cramped plane. So getting a schedule that affords them the luxury of shorter and easier trips will only be a good thing for the Browns.
Rest and rehabilitation after games are crucial to minimizing injuries, and this easy travel schedule will hopefully give the Browns the very best option possible to fight off injuries and illness.